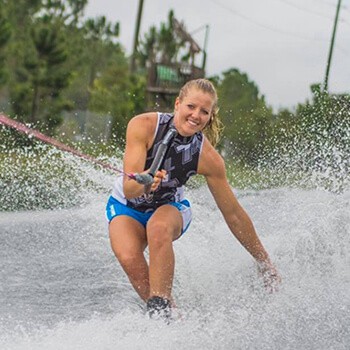 Years Competing: since age 6 (20+ years)
Years Using ASEA: 1
Favorite ASEA Product: ASEA REDOX, RENU Advanced Skin Care system
ASEA Routine: 4 oz. of ASEA REDOX in the morning, 4 oz. mid-day, and 4 oz. before bed.
ASEA Experience: "The season before I started using ASEA products, I had chronic back pain that took away my ability to train and compete at the level I was use to. I had the worst season of my professional career due to my lack of training and confidence going in to competitions. Since I started using ASEA products, I have been able to train more, both on and off the water. My back pain is no longer an issue, my energy levels are up, and I feel like I recover much quicker between training sessions. ASEA is helping me feel like an athlete again! I even won my first event of the 2019 season after being #PoweredbyASEA for just 1 month!"
Whitney McClintock Rini was born and raised in Cambridge, Ontario, Canada, where her family runs a waterski school in the summers on Puslinch Lake. Her aspiration to be a world champion started at a very young age as she looked up to her Uncle Joel (world champion in 1979) and Aunt Judy (world champion in 1985 & 1995). Whitney and her brother, Jason, were coached by their father, Jeff, until they moved to Florida in 2001, where they were able to train all year round.
Whitney's diligence paid off when she became a World Champion four times in one day (yes, you read that right. Four times in one day!) winning four out of a possible five gold medals at the World Championships in Calgary, Canada in 2009.
Whitney has continued her dominance on the water; she is now a 6x World Champion, 1x World Record Holder, 11x Pan Am Games Medalist (5 gold, 6 silver), and she holds over 30 professional titles.
The Person Behind the Athlete
Whitney thanks God everyday for the opportunity to live on the water and pursue her goals as a waterskier. She married her best friend and Florida coach, Matt Rini, on December 4, 2017. Whitney and Matt are also very involved at Hope Church in Winter Garden, FL. Whitney's favorite hobby at the moment is being a REALTOR and she looks forward to making it her career in the future.